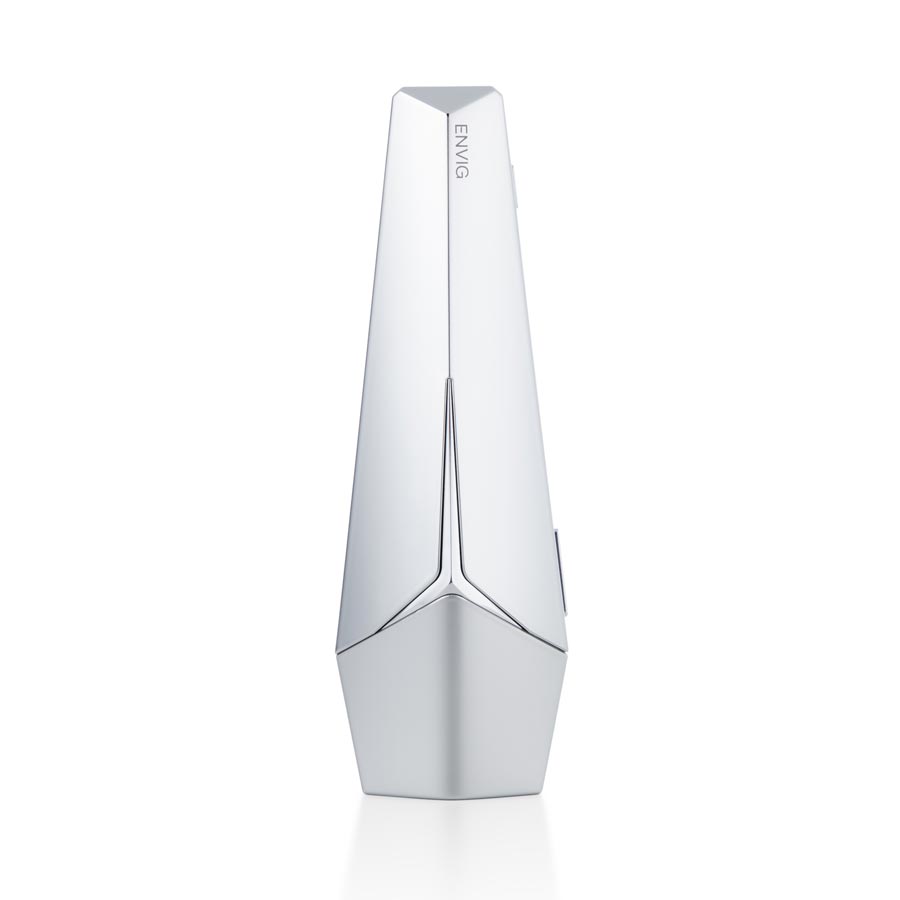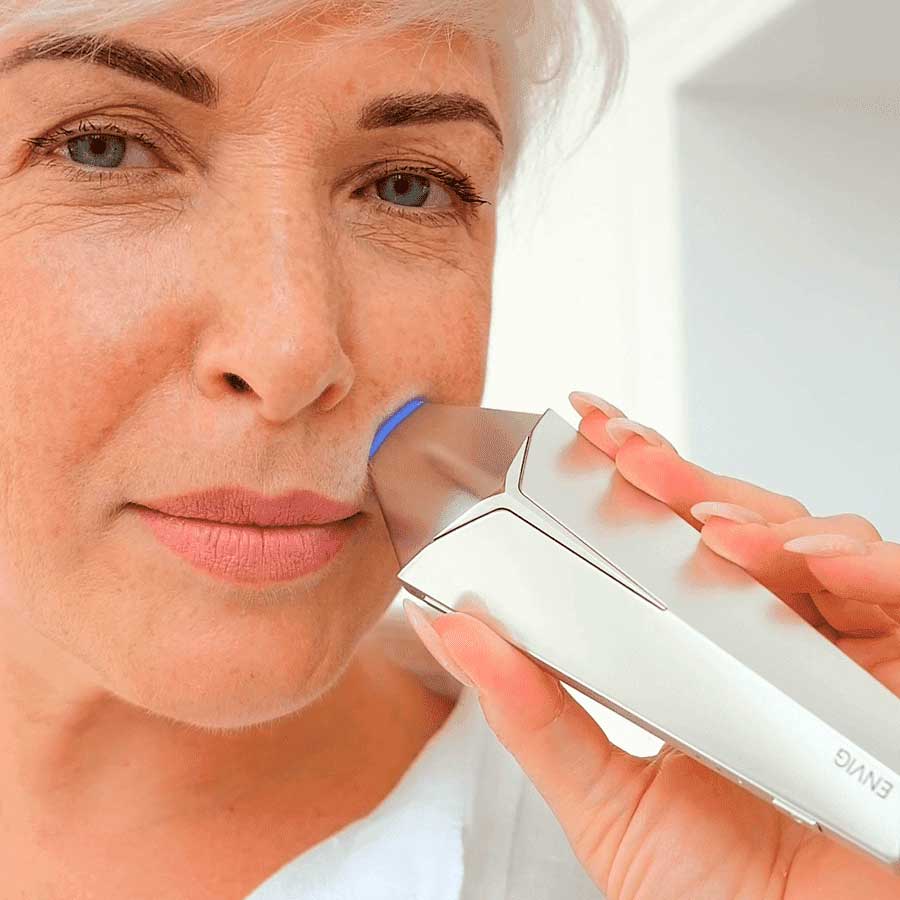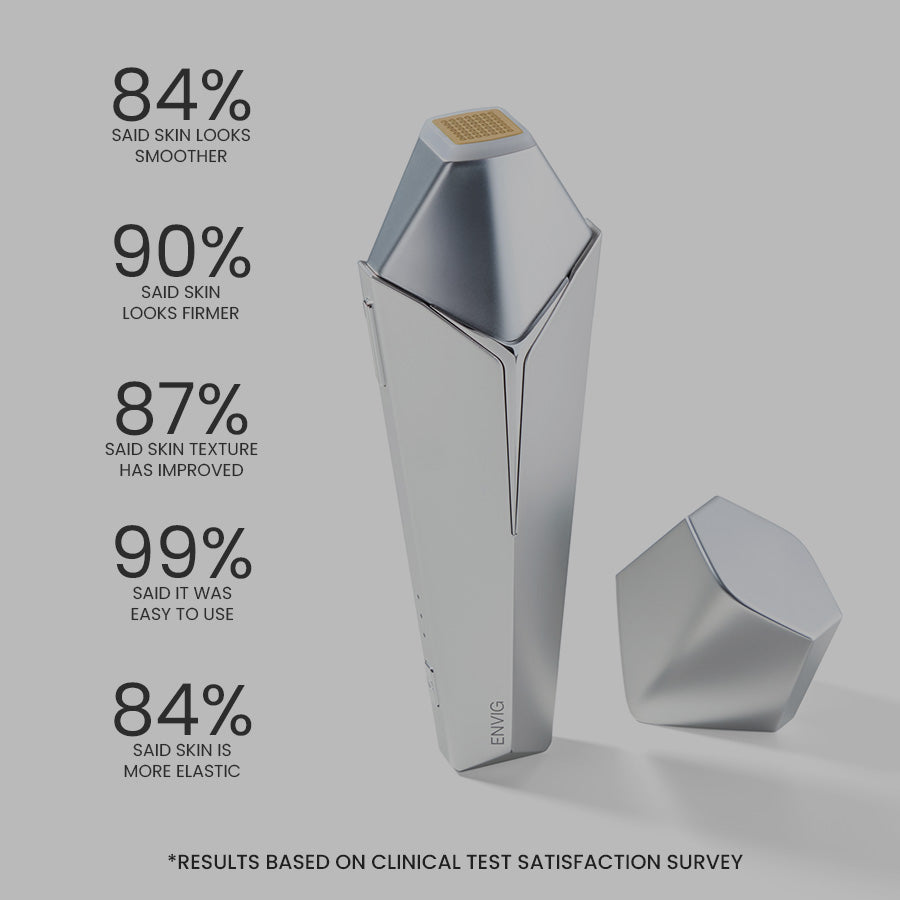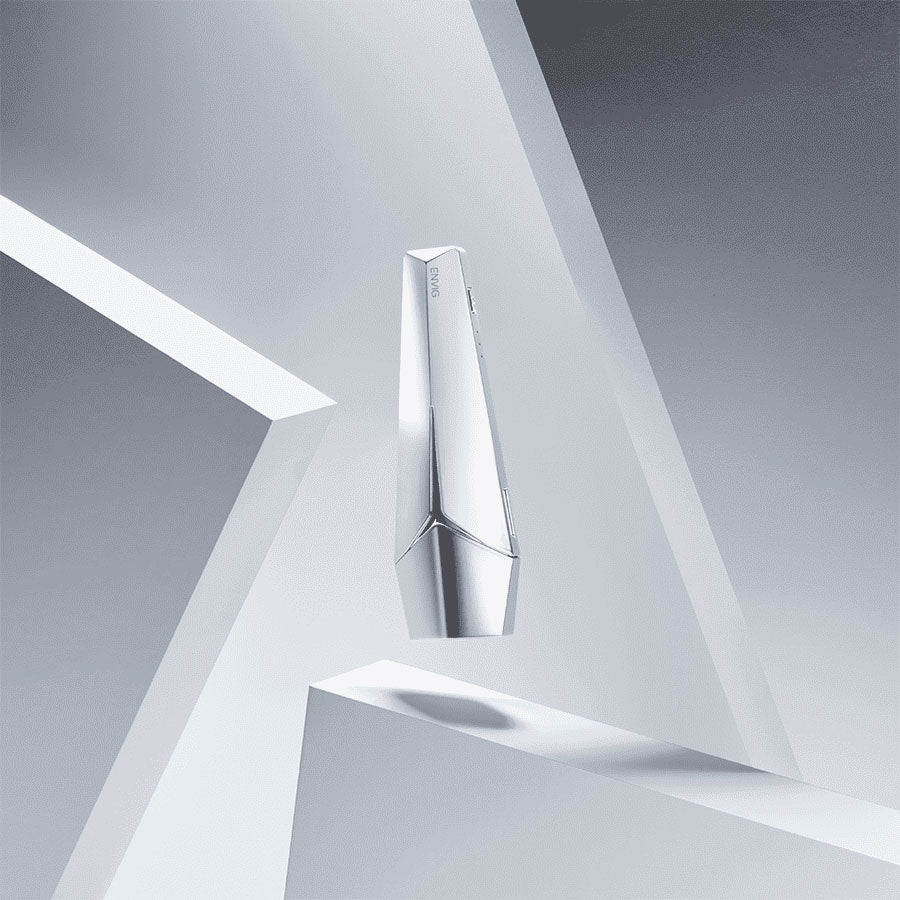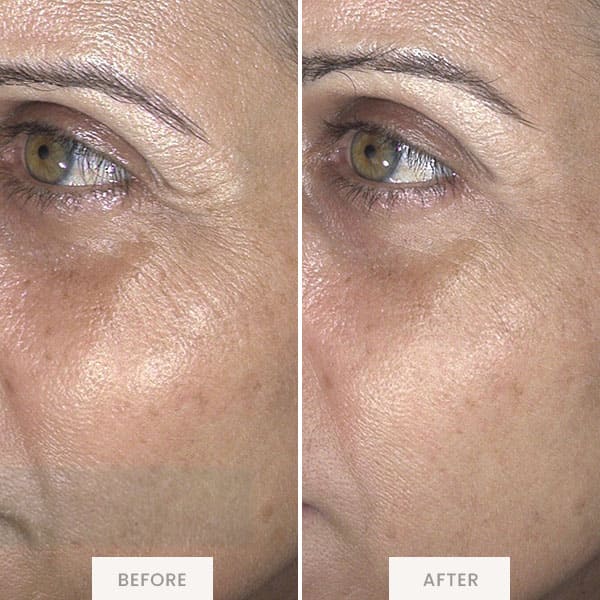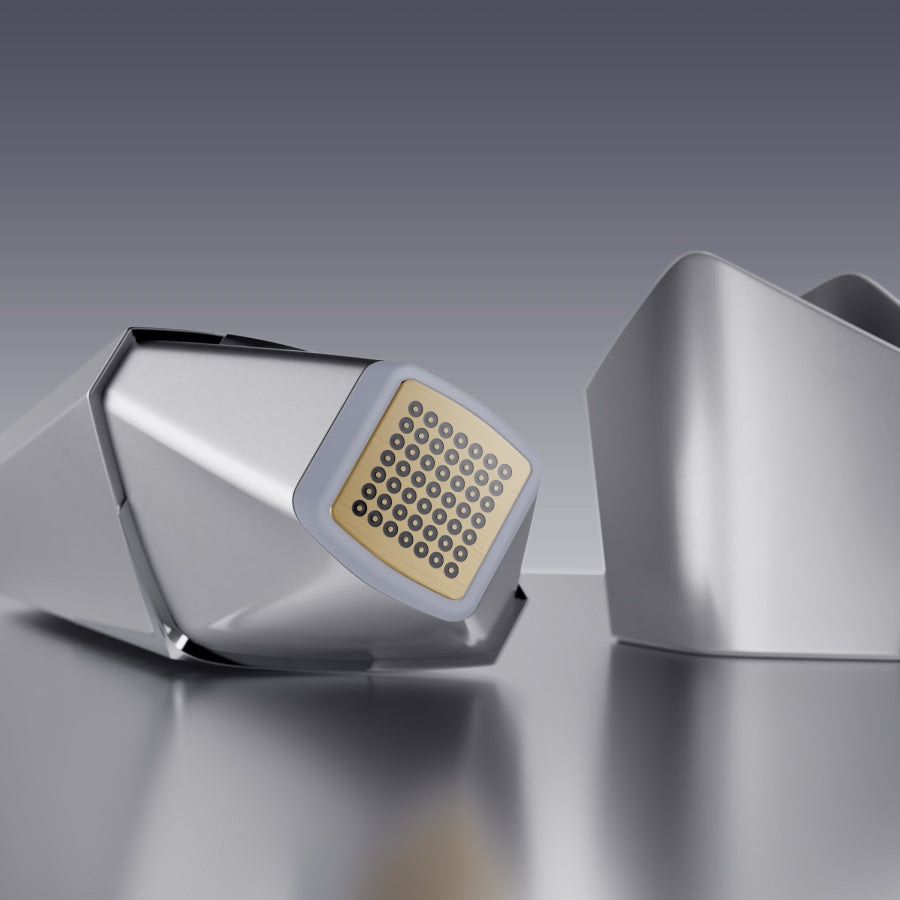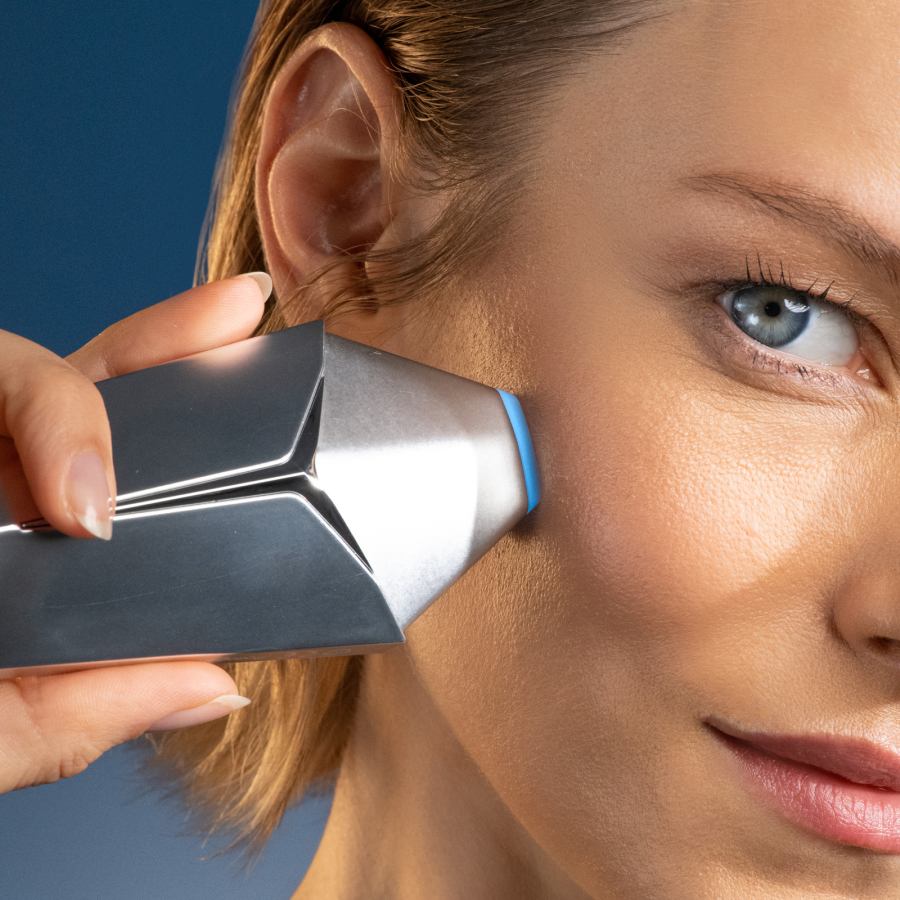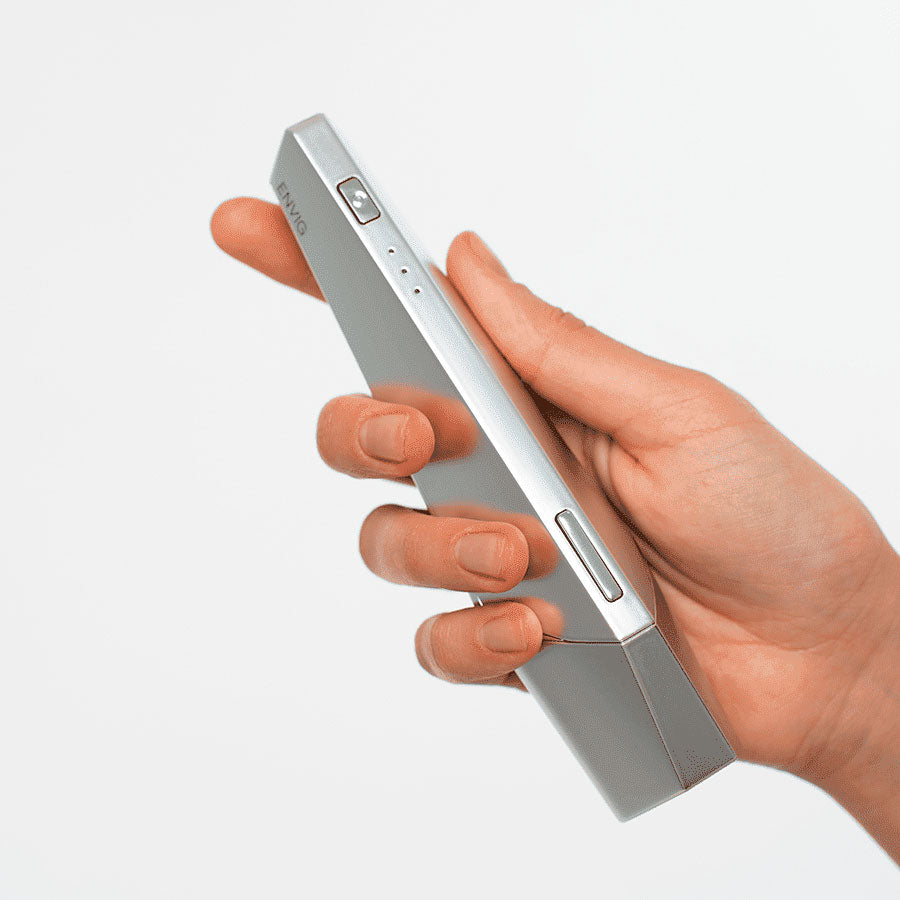 SAVE 35%
THE WORLD'S FIRST FRACTIONAL RF DEVICE FOR HOME USE
Resurfaces, rejuvenates and reduces key signs of ageing and skin deterioration.
Loss of firmness, age spots, lines and wrinkles: the skin's outer layers are vulnerable to natural signs of deterioration that come with passing time, injury and exposure to environmental aggressors. But did you know it's possible to safely and painlessly treat these common concerns from home, no needles included?
ENVIG EDGE is the first portable Non-Invasive Fractional RF (Radio Frequency) device for home use, developed from professional, medical-grade technologies to – much like microneedling – effectively resurface the skin, but in just four minutes. Instead of invasive needles, this device uses a matrix of thermal energy to deliver a duo of skin-rejuvenation pulses: one targets the superficial epidermis to resurface, smooth and encourage the renewal of damaged or tired skin cells, the other reaches deeper into the dermal layer to tighten and naturally stimulate collagen. Together, they reveal flawless, firmer, more uniform skin that glows with luminosity.
| | |
| --- | --- |
| Charge: Ensure your device is fully charged via a USB outlet before use. | Cleanse: Remove jewellery, then cleanse and thoroughly dry skin so it's free of skincare products. |
| | |
| --- | --- |
| Divide: Divide the face into four treatment areas: left cheek, right cheek, forehead and mouth area. | Power up & Choose: Turn on the device by pressing the power button until the headlight and Low power level LED illuminate. Press the power button again to choose one of three power levels: Low, Medium and High. Choose the one that feels most comfortable for you. |
| | |
| --- | --- |
| Treat: Place the treatment stamp flat against your skin and press the Trigger button to emit energy. During the pulse, the headlight will briefly turn blue and a vibration will follow. At the end of the pulse, the device will beep. | Move: Move to the adjacent location on the skin and treat as before, using this method until you've covered the entire treatment area. Treating the entire face should take between 3-4 minutes. |
| | |
| --- | --- |
| Turn Off & Clean: To turn off the device, hold down the power button for 2 seconds. After this, clean the device with an alcohol wipe and secure the protective cover. | Results: Enjoy all the benefits of this device's professional Non-Invasive Fractional RF technology, which includes smoother texture, enhanced luminosity and a reduction in signs of ageing. |
ENVIG EDGE

DESIRE

STOP Vx GOLD 2

Multi-RF Technology Uses multiple frequencies for faster,
more effective heating of the dermis.
DMA 'Dynamic Muscle Activation', gently stimulates
the muscles to improve, tone and enhance muscle density,
causing a lifting effect when used on areas such as
the jawline in facial devices or on the body.
Fractional RF An ablative, and can refine the texture of the skin and improve
the tone by breaking up clusters of hyperpigmentation.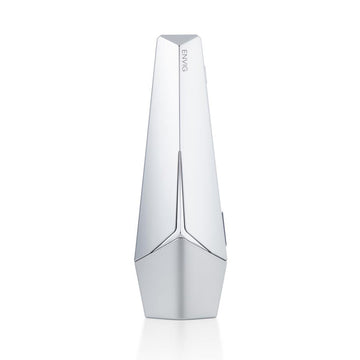 ENVIG EDGE
Sale price
$999.00
Regular price
Smooth, brighten & encourage skin renewal with Non-Invasive Fractional RF Technology.
DERMATOLOGIST APPROVED
"The ENVIG EDGE is a stand-alone device,
it is very safe, has no downtime, and no gel. You use it several times a week, and you get the immediate effect of luminosity and long-term impact of new collagen production, prevention of skin ageing, and improvement of small wrinkles."
Dr. Ines Verner
Professor of Dermatology and Regenerative Medicine.
TECHNOLOGY
The resurfacing action of ENVIG EDGE is the direct result of Lumenis' breakthrough Non-Invasive Fractional RF Technology, which utlises a matrix of thermal energy to create micro thermal zones in the skin. This heat clears away old skin cells while encouraging the production of fresh, healthy cells, resulting in visibly rejuvenated skin with smoother texture, even tone, enhanced luminosity and fewer lines and wrinkles. There's a lot more to this matrix of thermal energy, however. It's made up of two RF pulses: the first is Non-Invasive Fractional and is directed to the skin's superficial layer to actively resurface, while the second is Non-Invasive Volumetric and dives deeper into the dermis for a tightening effect and to accelerate cell turnover.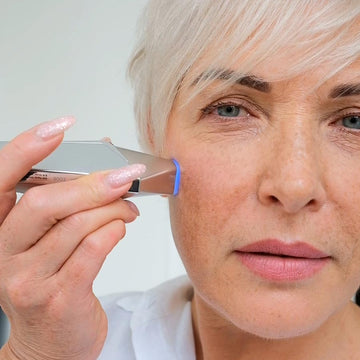 THE ENVIG EDGE DIFFERENCE
90%
said skin looks firmer
87%
said skin texture has improved
84%
said skin looks smoother
84%
said skin is more elastic
80%
said skin looked younger
*results based on clinical test satisfaction survey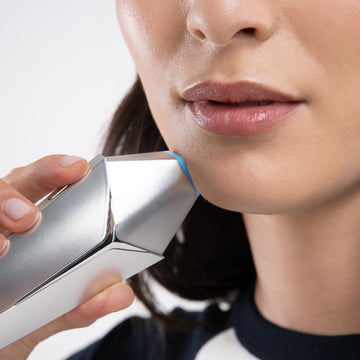 WHY TRIPOLLAR
TriPollar is inspired by unlocking the natural healing powers of the skin. It's underpinned by the over 15 years of medical, professional-standard innovations of Pollogen – the Lumenis subsidiary known for its clinically proven, safe beauty technologies – and aims to revolutionise the way we care for the skin and body from the comfort of the home, one device at a time. Each creation harnesses the powers of radio frequency and delivers the best possible, expert-level results away from the clinic, stimulating natural processes within the body that boost collagen production, improve skin tone and texture, and aid in fat metabolisation.
DISCOVER IMPRESSIVE RESULTS
Experience the power of the ENVIG EDGE in reducing wrinkles and improving skin texture! Witness the remarkable transformation of a customer's complexion over an 8-week period. See the incredible difference that the ENVIG EDGE can make!
You'll see results immediately, and they'll only become more noticeable with time. For optimal results, use ENVIG EDGE 2-3 times a week, following with your usual skincare routine.
No, not at all. You may feel a tingling sensation during and after treatment, and also experience minor swelling in the treatment area, but both are normal and should disappear after a short time. If they persist for more than 24 hours after treatment, please stop using the device and consult your doctor.
Yes. The ENVIG EDGE is designed to resurface and rejuvenate the skin without downtime, so it's safe to continue using your normal skincare routine. Please consult your dermatologist if you're thinking of using this device alongside acid treatments or chemical peels.
The ENVIG EDGE is intended for the face only, not the body. We recommend taking extra care when using the device around or on the under-eye area. Please avoid contact with the eyelids and eyes themselves.
Do not use ENVIG EDGE if you are under 18 or pregnant and have any of these listed conditions: sunburn, active acne, psoriasis, eczema, rosacea, open sores, rashes, cuts, abrasions or skin with any healing present. Also avoid using the device on moles, skin that's been treated with laser or chemicals or if you're on medications that impair skin healing. For the full list, please see the User Manual.
We do not recommend use of our devices if you are under the age of 18.
We do not recommend use of our devices if you currently have or have a history of cancer- especially skin cancer or premalignant moles.

We do not recommend use of our devices if you are pregnant or nursing.
We do not recommend use of our devices if you have permanent fillers within the treatment area. If you have temporary dermal fillers we recommend consulting a physician.

We do not recommend use of our devices if you have a pacemaker or internal defibrillator.

We do not recommend use of our devices if you have metal implants in the treatment area. This does not include dental fillings.

We do not recommend use of our devices if you have severe concurrent conditions such as cardiac disorders.

We do not recommend use of our devices if you have an impaired immune system due to immunosuppressive medications or immunosuppressive diseases such as AIDS.

We do not recommend use of our devices if you have any disease that is stimulated by heat such as (but not limited to) recurrent Herpes Simplex within the treatment area.

We do not recommend use of our devices if you have any active skin condition in the treatment area including, but not limited to, sores, psoriasis, eczema, or a rash.

We do not recommend use of our devices if you have a history of keloid scarring, abnormal wound healing, or fragile skin.

We do not recommend use of our devices if you have had any surgical procedure, laser resurfacing or deep chemical peeling within the treatment area within the past three months or are still undergoing a process to complete healing.

We do not recommend use of our devices if you have any suspicious lesions in the treatment area.

We do not recommend use of our devices if you currently use medications, herbal preparations, vitamins or food supplements that may cause fragile or dry skin.

We do not recommend use of our devices if you have diabetes
We do not recommend use of our devices if you have had a stroke in the past
If you are unsure about whether our treatments are right for you, we would always recommend speaking to your physician for further advice before beginning a treatment course.
Very effective
Love that it's wireless too
Good
I feel my skin is more even and smoother.
OBSESSED!
Can't live without this device now, I have noticed a massive difference on my forehead wrinkles
The device I have been waiting for
This leaves my skin feeling smooth I 100% recommend