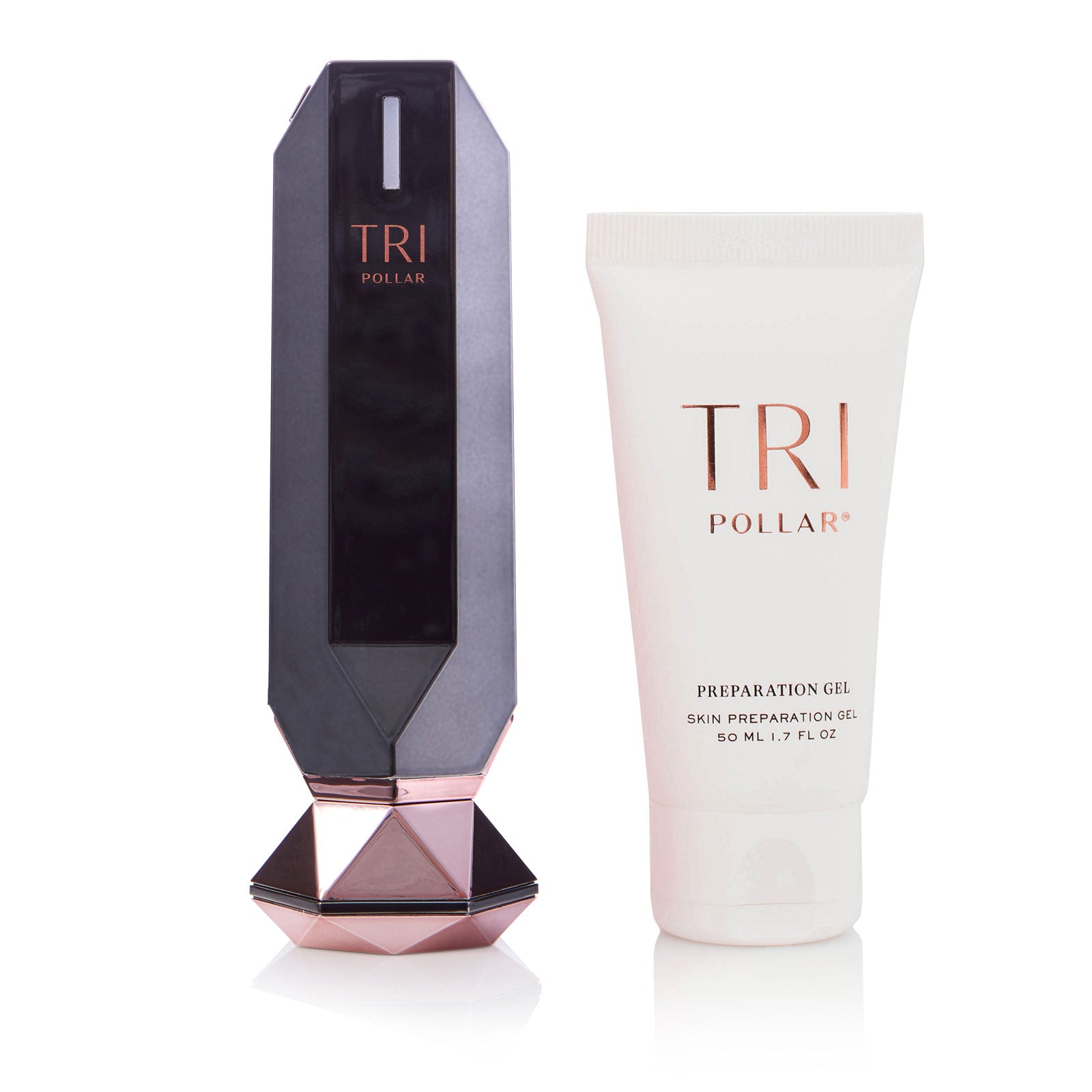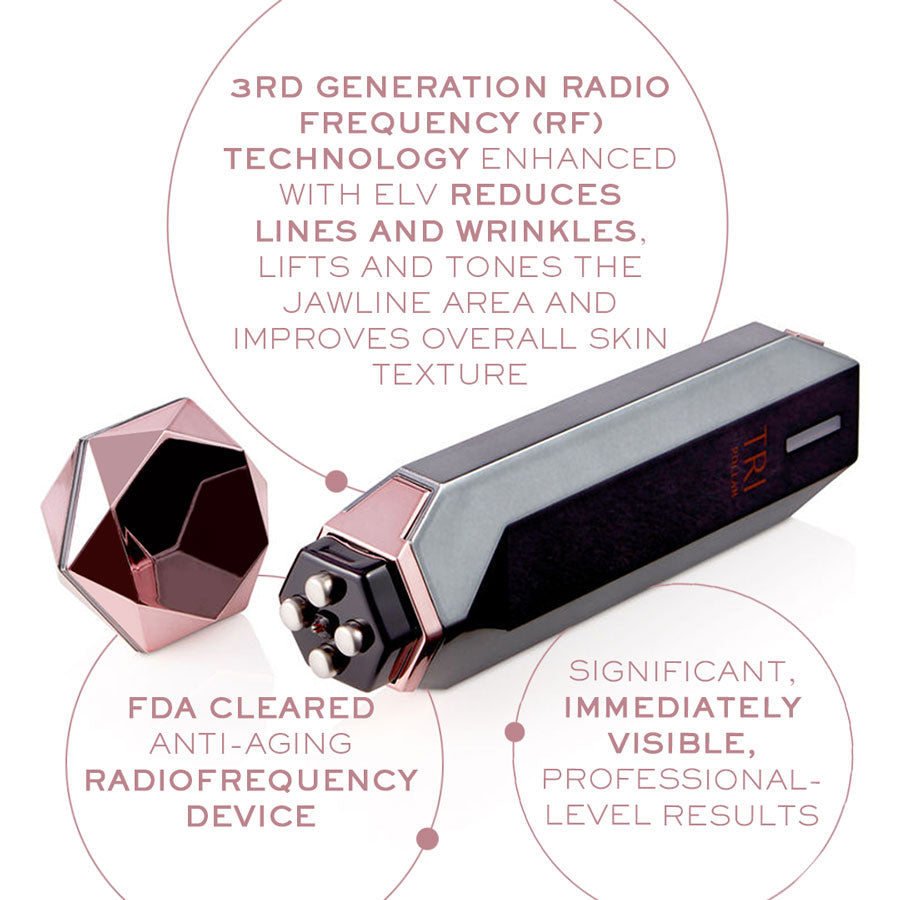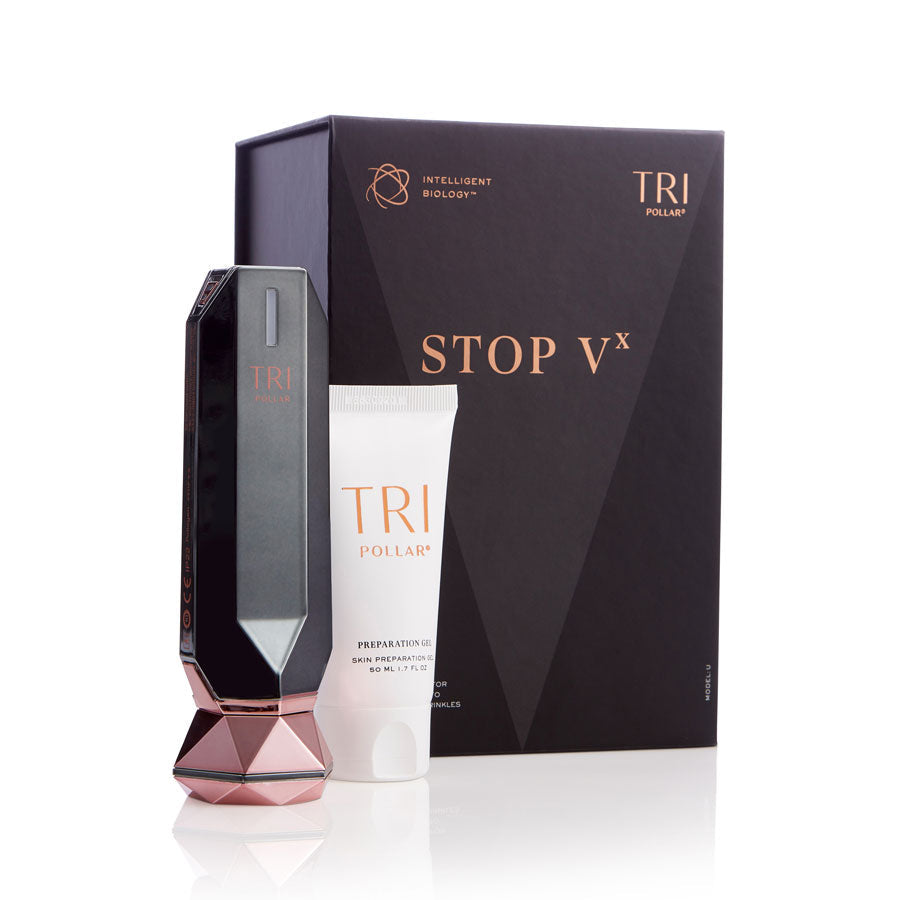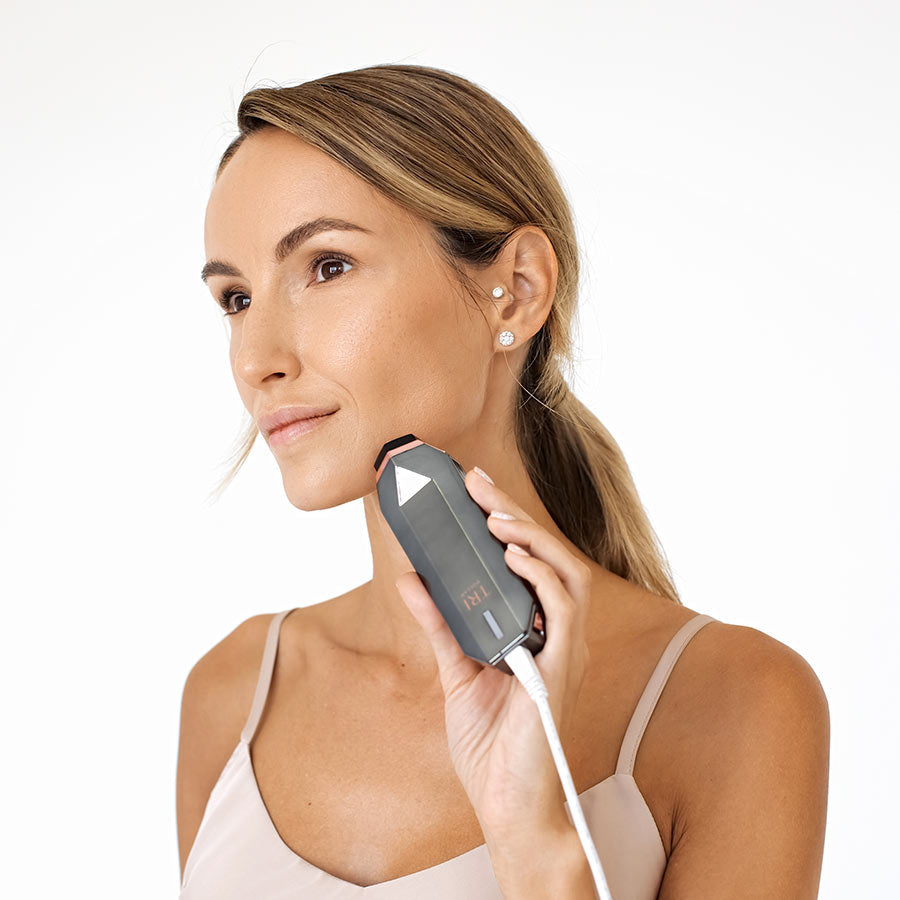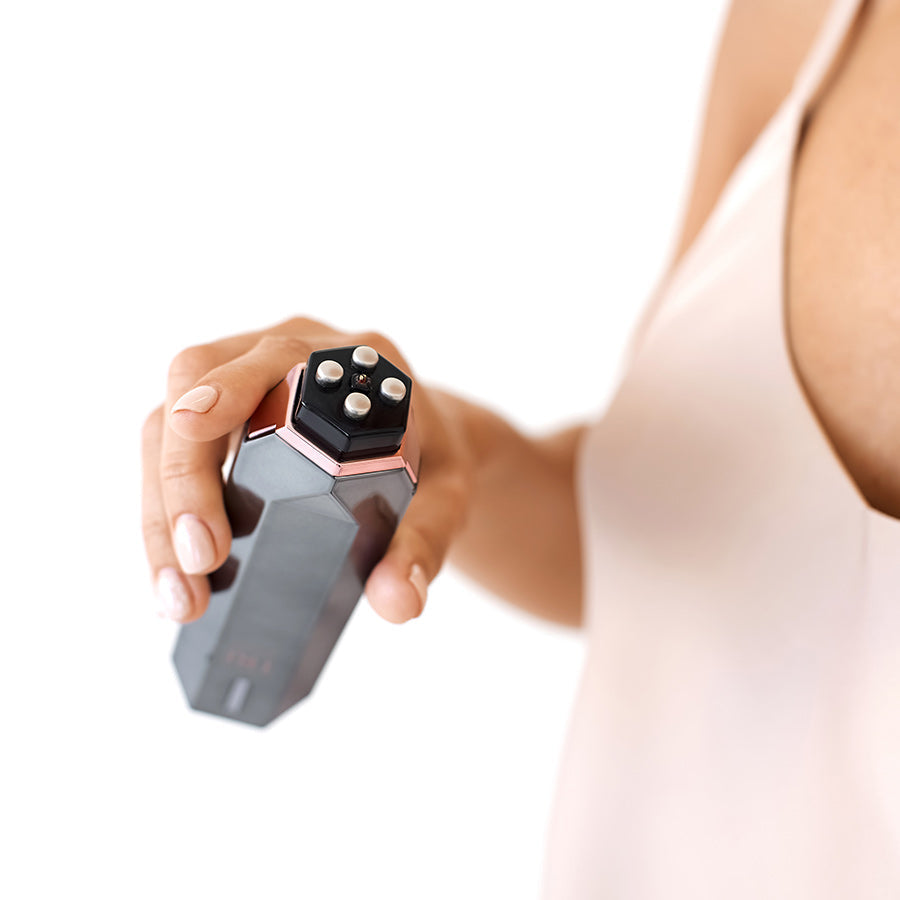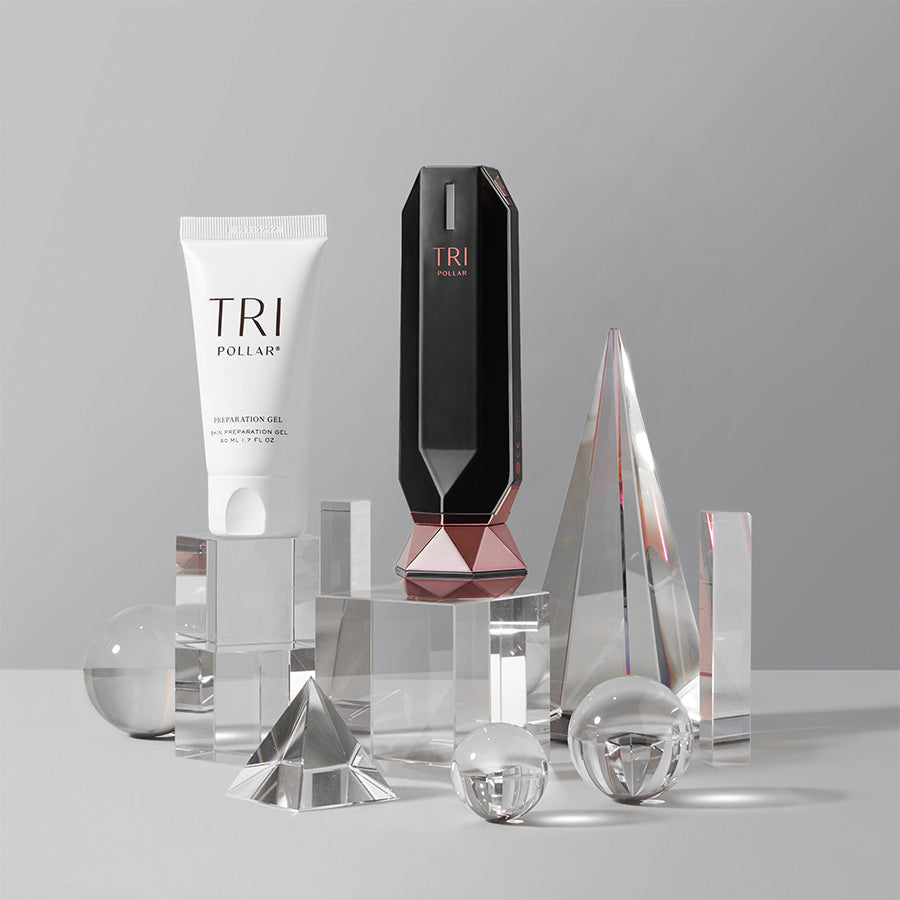 IMPROVES SKIN TEXTURE AND TONES THE JAWLINE
Smooths and perfects while sculpting and refining facial contours.
There's a reason why skincare lovers rave about the TriPollar STOP Vx: it's the professional-approved, all-in-one device that imparts a multitude of skin-toning, anti-aging benefits to the face and jawline, all from the comfort of your home.
Designed with ELV and Multi-RF, the device uses two interchanging RF waves to ensure that multiple layers of the dermis are treated at the same time and that areas of collagen are missed. Multi-RF is key to significantly reducing fine lines and wrinkles, lifting and toning the jawline area and improving texture. The best part? Expect results that not only last, but can be noticeable from the very first treatment.

| | |
| --- | --- |
| Cleanse and Prep: Clean and dry your desired treatment area, then apply a thin layer of TriPollar's Preparation Gel. | Divide and Choose: Divide the face into four separate treatment areas – left cheek, right cheek, forehead and neck – then plug in your device and press the power button to select the green RF mode. Press again to change the heating level. |
| | |
| --- | --- |
| Treat with RF: Keep all electrodes in contact with the skin, and apply slight pressure as you move the device in slow, tiny circular motions across the treatment area. Once the orange light illuminates, meaning the area has arrived at the optimal temperature, move the device slowly and incrementally along the treatment area. Do this for 4-5 minutes while keeping the orange light on, then move onto the next area. | Treat with ELV-enhanced RF: Press the power button until you activate the blue ELV-enhanced RF mode, and choose between two strengths. Move the device in slow linear motions along the jawline, and continue this for 4-5 minutes on each side. |
| | |
| --- | --- |
| Clean: Wash the gel from your face before continuing with your usual skincare routine. | Results: Enjoy all the benefits of your treatment, including smoother, plumper-looking skin and jawline area that appears lifted. |
TriPollar STOP VX Model
TriPollar Preparation Gel, 1.7 FL OZ (50 ML)
User Manual
Power Supply (US Plug)
Download User Manual
DESIRE

STOP Vx

STOP Vx GOLD 2

Multi-RF Technology Uses multiple frequencies for faster,
more effective heating of the dermis.
DMA 'Dynamic Muscle Activation', gently stimulates
the muscles to improve, tone and enhance muscle density,
causing a lifting effect when used on areas such as
the jawline in facial devices or on the body.
Turbo RF A level up from Multi-RF, it heats the dermis
to the optimal temperature for collagen production
in just 35 seconds – twice as fast as other
TriPollar RF technologies.
Thermal Mapping Algorithm Builds a personal Thermal Map, calculating the most accurate temperature
for effective treatment in the specific treated area.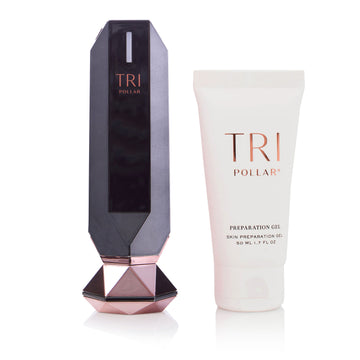 STOP Vx
Sale price
$819.00
Regular price
Reduce the appearance of wrinkles with Multi-Radio Frequency.
TECHNOLOGY
TriPollar's innovative radio frequency technology is the key to achieving youthful-looking results without the use of invasive treatments and is clinically proven to heat the dermis layer of the skin while improving it superficially. Multi-RF, however, improves treatment efficiency by using dual waves to reach more layers of the dermis for boosted collagen production by harnessing interchanging radio frequency waves that effectively smooth the skin and reduce the appearance of lines and wrinkles.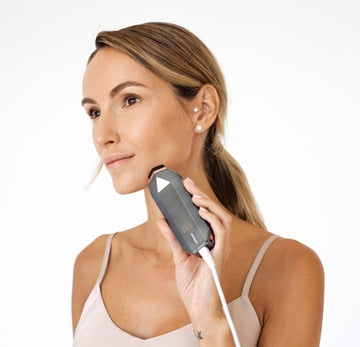 WHY TRIPOLLAR
TriPollar is inspired by unlocking the natural healing powers of the skin. It's underpinned by the over 15 years of medical and professional-standard innovations of Pollogen – the Lumenis subsidiary known for its clinically proven, easy to use, and safe beauty technologies. Pollogen aims to revolutionize the way we care for the skin and body from the comfort of the home, one device at a time. Each creation harnesses the powers of radio frequency and delivers the best possible, expert-level results away from the clinic, stimulating natural processes within the body that boost collagen production and improve skin tone and texture.
RESULTS LOVED BY YOU
See how customers have used STOP Vx 2-3 times a week, over a period of 6-8 weeks, and discovered amazing results! Fine lines and wrinkles are softened, the skin is plumper and tighter, and sagging around the jawline is visibly lifted and reshaped.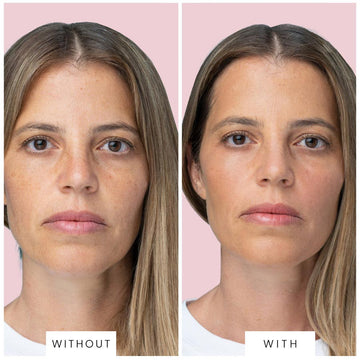 You may see results immediately, and they'll only become more noticeable with time. Just use your STOP Vx device 2-3 times a week, allowing at least 24 hours between treatments in the same treatment area, for a period of 6-8 weeks to see optimal results. Then use it 2-4 times a month (or as needed) thereafter.
STOP Vx is intended for the face only but should not be used around the eye area, thyroid or any other glandular area where the skin is much more delicate and prone to damage or irritation. Just use it on the forehead, cheeks and sides of the neck and then use the ELV-enhanced RF function along the jawline area.
Not at all. Like all of TriPollar's other devices, the STOP Vx is designed to deliver a safe, easy-to-use RF treatment that is pain free. And while you do feel a mild vibration with the ELV-enhanced RF feature, it is also painless. You may feel a pleasant, warming sensation while using it, but this shouldn't hurt. If it does, stop using your device immediately and consult your doctor.
Use your device on clean, dry, cleansed skin, then after removing the Preparation Gel, follow with your usual serums, moisturizer and SPF. Please keep in mind that RF treatments should not be combined with any skin care products that cause dry skin, or sensitivity to heat. Those products should be used on off-treatment days.
We do not recommend use of our devices if you are under the age of 18.
We do not recommend use of our devices if you currently have or have a history of cancer- especially skin cancer or premalignant moles.

We do not recommend use of our devices if you are pregnant or nursing.
We do not recommend use of our devices if you have permanent fillers within the treatment area. If you have temporary dermal fillers we recommend consulting a physician.

We do not recommend use of our devices if you have a pacemaker or internal defibrillator.

We do not recommend use of our devices if you have metal implants in the treatment area. This does not include dental fillings.

We do not recommend use of our devices if you have severe concurrent conditions such as cardiac disorders.

We do not recommend use of our devices if you have an impaired immune system due to immunosuppressive medications or immunosuppressive diseases such as AIDS.

We do not recommend use of our devices if you have any disease that is stimulated by heat such as (but not limited to) recurrent Herpes Simplex within the treatment area.

We do not recommend use of our devices if you have any active skin condition in the treatment area including, but not limited to, sores, psoriasis, eczema, or a rash.

We do not recommend use of our devices if you have a history of keloid scarring, abnormal wound healing, or fragile skin.

We do not recommend use of our devices if you have had any surgical procedure, laser resurfacing or deep chemical peeling within the treatment area within the past three months or are still undergoing a process to complete healing.

We do not recommend use of our devices if you have any suspicious lesions in the treatment area.

We do not recommend use of our devices if you currently use medications, herbal preparations, vitamins or food supplements that may cause fragile or dry skin.

We do not recommend use of our devices if you have diabetes
We do not recommend use of our devices if you have had a stroke in the past
If you are unsure about whether our treatments are right for you, we would always recommend speaking to your physician for further advice before beginning a treatment course.
Superb service
I had the pleasure of interacting with Rob from Tripollar's customer service and I must say, he exceeded my expectations. He was extremely helpful and responsive, getting back to me in a timely manner. The issue I had was resolved efficiently and effectively thanks to his professionalism and expertise. I was thoroughly impressed with Rob's dedication to providing excellent customer service and I wouldn't hesitate to recommend Tripollar to others because of the high level of support they offer. Thank you, Rob, for your exceptional service!
Tripollar
Bought the tripollar vx , was easy to use followed the instructions which were very clear, have used 7 times as you need to use 3 times a week for 10 weeks I'm happy with the results so far you need to be committed and make time for the treatments , looking forward to end of the 10 weeks for even better results then I can use once weekly, I am very satisfied with my purchase.
Very good. I like it and it works. I am pleased with my purchase.
This device is amazing! You need it!
Very satisfy, best purchase in months, I had one before of another brand but it is not comparable to tripollar, I saw results from the beginning, it is not cheap but it's working, it worth to pay !